About Me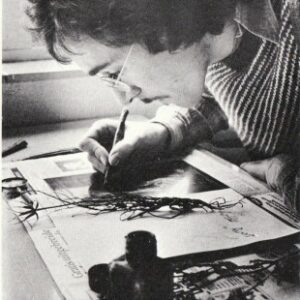 Simon Koene
Simon Koene is a printmaker (etcher), painter and publicist. He belongs to the most important Dutch printmakers of the twentieth century. Koene followed his studies at the Royal Academy of Fine Arts in The Hague. In his second year of study he made his first etchings. Initially Koene was inspired by daily life and major world events. His work has a mainly literary character and remained experimental throughout his career. His most important works are: Dear Plato (1970), Groot Hollands Landschap (1979) and Die Goldene Zeit (1988). From 1971, Simon Koene was the driving force behind the projects of The Hague Etsclub and from 1973 member of Pulchri Studio in The Hague.
My first etching
I was in the second grade of the academy of arts and made my first etching long before the subject was officially on the class timetable. It was a self-portrait, which was created~ by coincidence. I draw it on a thin copper plate that I cut from the bottom of an old tobacco stool, and printed it by means of a strike of the hammer. It was Christmas 1967. A few days later I went outside with my gloves on to make my second etching. I sat down on a sandy road in the Westland and had attached a mirror to a tree. Between the falling snowflakes I draw my subject. It was my second etching and one of the 350 that would follow. I printed my etchings at the academy of arts. Until the Easter holiday was in sight and I could not wait no longer. That was the time I started to look for a printer of etchings.
The Dutch period (1967-1982)
From 1967 onwards I was etching like crazy. Every next picture flowed from the previous one. As a result, my work developed very quickly. From family prints, diary and literary prints to a Dutch landscape series, in which the abbey church of Loosduinen was the central subject. This happened in a time where art was mainly conceptual in nature, which made me feel I was from a different era. In retrospect, I am surprised that still so many aspects of that time period influenced my etchings.
The Oriental Period (1982-1998)
In the early 1980s there was a change in my work. Although color etchings already announced themselves in my early work, the final breakthrough came after a visit to Greece. I hoped to find the 'Arcadia of my dreams' there and the atmosphere in which
I was raised at high school at the Gymnasium. When by the end of the nineties that chapter had also been completed, I decided to stop etching. I had made more than three hundred and fifty, still wanted to draw and paint, and my prints were adopted in the collection of the Rijksmuseum Amsterdam.
"You can write your life and time in a book, but you can also make it in prints. I did that last. "